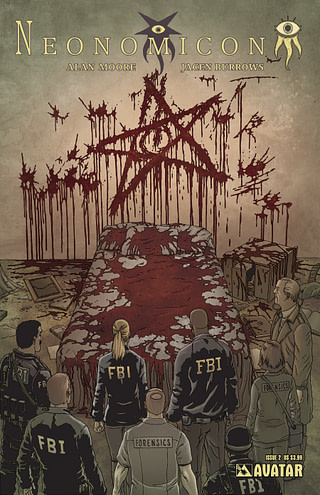 Okay, consider this a heads up warning for retailers who live in certain sensitive parts of… well, we're talking America I suppose. But its also possible this may cause some issues for certain international customs officials as well.
Because Neonomicon #2, out next week from Avatar by Alan Moore and Jacen Burrows, has got nudity in it. Lots of nudity. Sexual nudity as well. You don't, as one wag once put it "see it going in", but there's graphic masturbation, oral sex, ejaculation and… well you get the idea. There's also rape, murder and racial epithets too. Some people are going to want to keep this behind the shelf.
And some people are going to stack this next to Mickey Mouse.
Anyway, on with the book. The first issue caused quite a stir after one reader took to Youtube to deconstruct the book, looking at the various levels of panels, speech balloons, object placement and fourth wall breaking. And much of it bears fruit here.
One thing that analysis didn't pick up on was the amount of references to Lovecraft work embedded in the details and characters of the issue. But rather than that be an injoke for certain readers, it is addressed head on in the first few pages, lining up everything for people who are not big Lovecraft affectionados.
And the metatextuality is here too. A lot of doors, a lot of walking from one space to another, a real sense of levels being passed through. A realisation of what the "gutters" may be in this world. People being "framed" by objects, creating their own personal panels – and personal level of reality. We also see again the strange structure built across the world that no one else can see, or if they do, don't consider it important. And the individual marked for death by background details in the last issue – well, if you were expecting it, you won't be disappointed. If you weren't expecting it, go back and look.
There are those that think Mark Millar is being edgy with Nemesis. Who think that Grant Morrison was rather balls to the wall with The Filth. That Rick Veitch's Maximortal was a bit much. But Neonomicon? It's closer to Lord Horror than anything else. This is an unrestrained Alan Moore, masterfully spouting unease and fear with a precise balance.
This can never end well. Here's a safe for work preview – and a minor taste of what's to come.