JobWatch: Anyone to take a brief for a high profile paying job drawing/painting in the more-intricate Disney style? Think painted castles and explosions… contact me here.
WeekendWatch: I'm away in Italy from tomorrow till Tuesday evening – expect much reduced posting on my part. But if you're up to something naughty, don't think you'll be safe…
SpideyWatch: A NM Amazing Fantasy #15 up for auction from a reliable seller. Current value? $1.25
DVDWatch: Grant Morrison: Talking With Gods Region 1 DVD hits Amazon.
KickStartWatch: This one's called Amazing Fist. Funny an old boygirlfriend gave me that nickname once. Cover by Bleeding Cool's Josh Adams there.
GoWestWatch: Tom Spurgeon asks all the right questions about DC Comics, Wildstorm and Zuda. I may have some answers for him later today…
DoctorWatch: The Sarah Jane Adventures returns to the BBC for its third series on Monday October 11th, official. The fifth and sixth episodes, The Death Of The Doctor has been written by Russell T Davies, guest starring Matt Smith as The Doctor and Katy Manning as Jo Grant.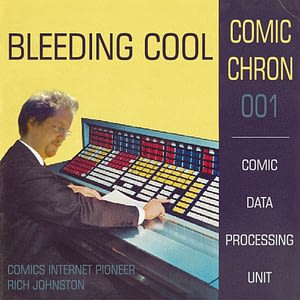 This is The Bleeding Cool ComicChron Robot speaking. I come for your women. But for now I merely collate comic-related bits and pieces online. One day I will rule. Until that day, read on.
Are There Actually Enough All-Ages Comics?
The fact is that no matter how I try to justify their necessity, these books don't really sell, at least not in the comics market. And maybe not really so much in the book market, which we have been told really want all-ages and kids' books, but licensed ones. And, champion second-guesser that I am, I've started to wonder if maybe publishing really good all-ages and kids' comics just simply won't do the trick, if maybe the world really doesn't want them in the numbers I've convinced myself they do. And I realize, when I think back, that my own history doesn't dispute that. I didn't get into comics through designated all-ages or kids' comics (though the Batman comics of the mid-'90s were fairly innocuous), and the all-ages comics I listed above were all things I got into in high school.
Treat Your Rifle Like a Lady – The Will Eisner M-16 U.S. Army Rifle Maintenance Booklet. Officially known as DA Pam 750-30. 32 Pages on proper cleaning and assembly of the M16A1 Rifle. Issued in comic book form, and with rifle, to every U.S. soldier stationed in Vietnam. Chapter titles include: How to Strip Your Baby – What to Do in a Jam – Cues From Guys Who Know – Sweet 16 – All the Way with Négligé and Drain Before Shooting. Also introduces "Maggie", a personified M-16 cartridge with arms, legs, and eyelashes.
Eat Your Oatmeal — Seattle Weekly
This is Inman's job. He isn't a waiter/cartoonist or a barista/cartoonist or a housepainter/cartoonist. He's not even a freelance computer geek/cartoonist. He stopped doing that work a year ago. Now, at 28, he draws comics, posts them to his website, sells merch, and turns a serious profit.
Guy Builds Real-Life Rob Liefeld Gun
Bonus: it runs on electricity and magnetism and really blasts! YouTube user Jason built the coilgun in his backyard using old cell phone chargers and laser pointers…and now you can too, kids!
Dustin Nguyen — duss005's Journal: the few things im sick of
drawing shitty and being content with not getting better doesn't make you innovative, indy or an underground style. it makes you suck and lazy. So before you start talking shit about the "house style", learn to draw, get your own style. then, it'll be okay, because you're actually competent. But don't put yourself alongside actual innovative artists like Paul Pope or Sean Murphy just because your lack of skills keeps you from drawing like Ivan Reis or Jim Lee. Drawing shitty isn't a style, its a lack of skill. We're all always trying to better ourselves, dont act like you're already there and better than someone else because you're jealous.
Looks like an appropriated Gibbons Doctor Manhattan in If Not Summer No. 3
To produce the dense, hypersaturated art pieces seen in their new exhibition, two artists googled the web, scoured fan forums and browsed Flickr accounts to round up 5,000 images for a single collage. The duo, who work under the moniker Simmons & Burke, then assembled their visual plunder into the eye-popping print, pictured above. "We like the idea of making a Frankensteinian world that is both overwhelming and quieting," Case Simmons and Andrew Burke told Wired.com in an e-mail interview. For their new exhibition If Not Winter, which goes on display Thursday at Michael Kohn Gallery in Los Angeles, the pair appropriated about 15,000 images from a vast trove of sources. "We use all sorts of sites and forums to discover images and samples on the internet," they said.
There won't be any news about the future of Astro City,the Arrowsmith novel and The Witchlands, my three Wildstorm projects, for a little while, but I don't think there's anything to worry about.
Titanium foam builds Wolverine bones
Eat your heart out, Wolverine. The X-Men superhero won't be the only one with with metal fused into his skeleton if a new titanium foam proves suitable for replacing and strengthening damaged bones.