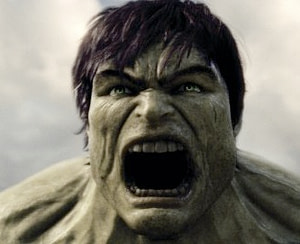 Here's how the sad story goes: Edward Norton and Joss Whedon sat down and discussed plans for The Avengers, most likely with a focus on Bruce Banner and the Hulk, and Norton returning to reprise that dual role. At the end of the meeting, so enthusiastic was Norton that he had his schedule cleared to free him up for the film, and so enthusiastic was Whedon that he knew he had his man and was dead set on casting him.
Meanwhile, the Marvel movie moguls had other ideas. They were going to recast the role, giving us the third different big screen Banner in under a decade, and they were going to use an 'unknown'. Come Comic-Con, this guy would then be rolled out on stage and introduced to the fans. The atmosphere would probably be so charged that they'd get away with it.
Whedon would be there on stage, introducing this (at best) second choice bit of casting with every bit of enthusiasm he could gather up, but somehere inside… And as for Norton, how is he feeling?
You can read the original telling of this tale at HitFix, but what are the morals of this story? What does it tell us?
If Norton wants the role, and Whedon wants Norton to have it, what's up with Marvel? The most obvious assumption would be that the studio doesn't want to pay his asking price. The assumption that follows that one is that Norton won't drop his asking price. Without knowing the numbers involved, it's difficult to make even a moderately fair call on this. Who's being unreasonable? Remember – there are deals in place Robert Downey Jr., Samuel L. Jackson and the Chrisses Hemsworth and Evans. Moral number one: money is the root of all art-trashing disagreements about money.
There could be another issue. Norton's involvement in the last Hulk picture saw him take… er… what we'll call a very healthy interest in the project. You may recall he even rewrote the script heavily, though Zak Penn received WGA arbitration in the end. Is Norton just too keen to be hands on?
And Whedon's used to running the show – literally – so could it be that Marvel don't want what they might see as one, maybe two, determined and self-empowered obstacles getting in the way of a safely controlled production? Moral two: money is the root of all say in how that money gets spent.
I think Norton is a fine actor and clearly no dummy, but I was far from satisfied with The Incredible Hulk so, emotionally, I feel no loyalty to his rendition of Banner at all. But he's good enough an actor that there's more good reason to bring him back than just neatness and tidiness in the continuity.
Let's see if Marvel change their plans on the basis of the HitFix expose. I'd probably expect the big idea of unveiling Norton's replacement, live at Comic-Con to a packed pit of fanboy fury, has already hit the can… but will the studio go so far as to axe this newcomer and sign Norton for the job? Moral three: make the geeks happy and make the geeks' money?
My hunch is that we'll see the Hulk actor revealed through the trades in the next few days and that it won't be Norton, and the Marvel moguls will watch his reception closely before finalising plans to put him on stage at Comic-Con. But we'll see.
Enjoyed this article? Share it!