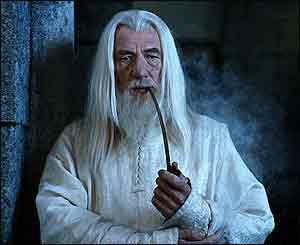 In the following clip from New Zealand's Good Morning show, Ian McKellen states that he does expect an imminent announcement that will reveal The Hobbit's start date or new director… or maybe it will be that the films aren't going to happen at all. All the same, he's not 100% committed to sticking with the films through thick, thin and seemingly endless delays:
Well, I'm not under contract and my time is running out, and I'm enjoying working in the theatre. And frankly, I would like to race after doing Waiting For Godot, get on with doing another play, but we'll have to see. I don't give the producers the impression that I'm sitting waiting.
Here's the clip with Hobbit talk starting around the 4:30 mark:
It'd be pretty awful for The Hobbit to lose its Gandalf. The ties that bind the upcoming films to the already standing Rings trilogy are crucial to the fan community's anticipation. In fact, a quick straw poll of three strangers in this bar tell me that even casual viewers think recasting Gandalf ("That's the wizard, right?") would be "stupid," "a bad idea," and worth a worried, "No, no, no."
Thanks to The One Ring for showcasing the video and putting a bit of a frown on my Saturday afternoon relaxing on the South Bank.