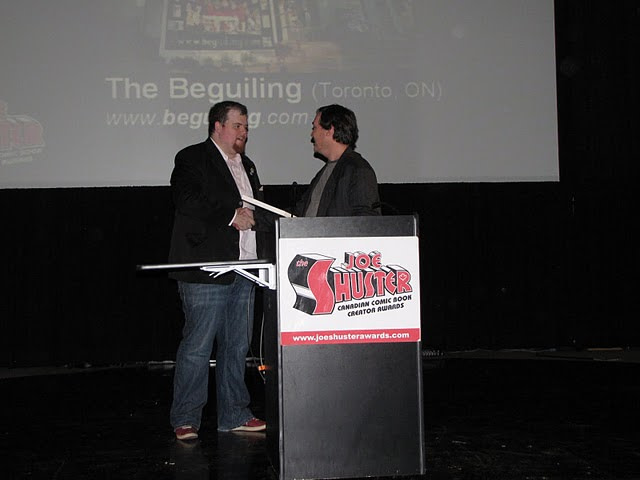 Full 2010 Joe Shuster Awards Ceremony (1:57:47, 107mb)
Introduction by the Master of Ceremonies Jonathan Llyr, assisted by Sarrah Young
Hall of Fame induction for Serge Gaboury, presented by Robert Pincombe
Harry Kremer Award for Outstanding Comic Book Retailer to The Beguiling, accepted by store manager Chris Butcher, presented by Mark Askwith
Outstanding Comic Book Publisher Award for La Pastque, presented by Jeff Brown
Hall of Fame induction for Dave Darrigo, presented by Joe Kilmartin
Comics for Kids Award to Svetlana Chmakova for Night School Vol 1 & 2 (Yen Press), presented by Jennifer Stewart
Gene Day Award for Self Publishing to Ethan Rilly for Pope Hats 1, presented by Jeff Lemire
Hall of Fame induction for Deni Loubert, presented by Ty Templeton
Outstanding Cover Award to Darwyn Cooke – Richard Stark's Parker: The Hunter, presented by Duane Murray
Outstanding Comic Book Colourist to Nathan Fairbairn, presented by Robin Fisher, accepted by Mike, friend of Mr. Fairbairn
Outstanding Comic Book Artist to Stuart Immonen, presented by David Okum
Hall of Fame induction for Cloude St. Aubin, George Freeman and Richard Comely (The Captain Canuck team), presented by Kalman Andrasofszky, Leslie Livingston and Ron Kasman
Outstanding Comic Book Writer Award to Maryse Dubuc for Les Nombrils, Tome 04: Duels de Belles (Dupris), presented by Robin Fisher
Outstanding Web Comics Creator Award to Karl Kerschl, presented by Duane Murray
Outstanding Comic Book Cartoonist Award to Michel Rabagliati for Paul, Tome 06: Paul A Quebec (La Plasteque), presented by Ty Templeton
Closing by Jonathan Llyr
The Zen of Inking with Ernie Chan. (54:30, 49.9mb)

Bronze Age inker and artist Ernie Chan talks about being an artist in the Philippines, how they worked and the tools they used, then coming over to America and working with artists like John Buscema and Gil Kane. He talks about how he inked Marvel and DC books, his penciling work and some of his very recent commissions.
Greg Rucka – A Novel Approach. (50:12, 45.9mb)



Greg Rucka answers questions about how he got into comics, writing books, working with various artists and other writers. He also tells a story about being an EMT and how he helped a woman that got stabbed in the throat in New York City. Rucka talks about his changed views on the movie industry after his experiences on the set of Whiteout. Greg also tells us about his upcoming creator owned work as well.
Shop Talk with Philip Tan, Barry Kitson and Francis Manapul. (57:29, 52.6mb)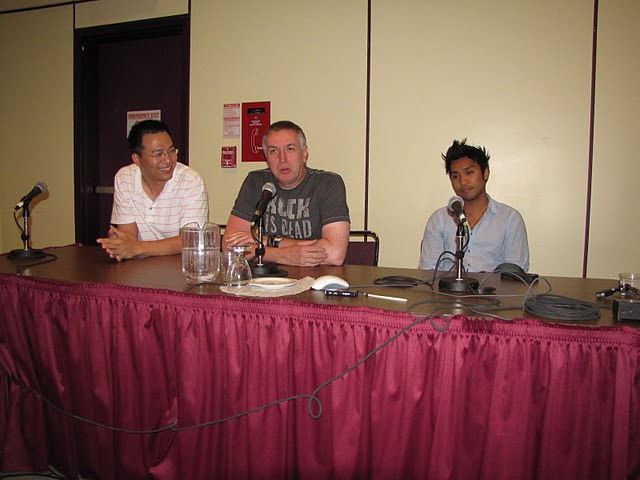 These 3 artists talk about their art education, the process they use when working with different writers. More specifically Kitson talks about working with Mark Waid, Manapul talks about Geoff Johns and Jim Shooter, and Philip Tan talks about working at Marvel and with Dan DiDio. Kitson talks about Negative Space and leading the readers eye around the page and Manapul joins in. They also talked about the benefits and pitfalls of using Agents among other topics.
Chris Sprouse – From Panel to Page. (54:49, 50.1mb)
Chris Sprouse talks about his process of drawing comics. He takes us through going from thumb nails, to layouts to the finished page. Sprouse also talks about why he sticks to working on paper and when and how he does use a computer. He talks about what programs he does use to help him on certain things. Chris also goes into designing new characters and what he thinks of computer colouring.
Jeff Lemire – Bruisers, Brawlers and Invisible Men. (47:35 43.5mb)

Jeff Lemire explains how he went from being an celebrated indy cartoonist to a monthly superhero writer for DC. He talks about his earliest work and winning the Xeric Grant and how that helped him. Jeff gives insight to the real and not real parts of Essex County trilogy and how the 3 book series came together. He mentions how things are going for him in Vertigo and also his now creating a new origin for The Atom and writing Superboy.
All Panels moderated by Walter Dickinson of Toronto Cartoonists Workshop.
Thanks to TheComicBooks for supplying all audio and visuals.