 Out in July comes Anne Elizabeth's Pulse Of Power One Shot, written by Anne, drawn by Marcio Fiorito and edited by – why goodness me, Alisa Kwitney. There's a blast.
Anyway, this 56 page story by romance novelist Anne Elizabeth was to have been published by Les Dabel Bros, before, well, they went through their much publicised financial difficultues yet again and were picked up by Dynamite Entertainment. The solicitation for the book reads;
Tia Stanton is not an ordinary woman. Created from a mystical rite, she is birthed into a world where chaos and organization run side by side; where monster and man live in unison but rarely with recognition of each other. Until, the race begins – a fight to gain access to the pool of power lying beneath her hometown of Greenwich, Connecticut. It coincides with her twenty-fifth birthday and her last chance to accept the full mantel of this supernatural power. Tia is forced to deal with the fact she's different. That she can recycle sin energy and make something good out of it. The world is literally at stake, as is a multitude of other planets which are tied to her own. Anne Elizabeth's PULSE OF POWER — feel the pulse and prepare to power up! Destiny is always a choice.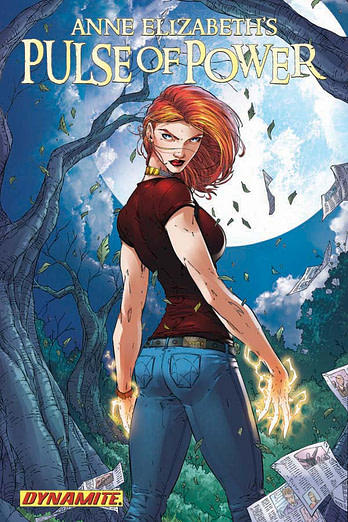 That cover is by Brett Booth. Bizarre Necks anyone? Can't wait to find out what either Valerie D'Orazio or Johanna Draper Carlson think about this comic. Her previous works include Caramel Flava and Operation L.O.V.E.…