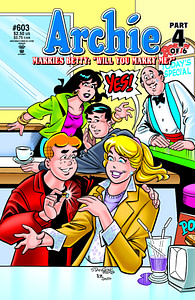 What can I say, those Archie people know how to play up publicity.
As part of the Archie Wedding saga, it seems that he's not going to marry Veronica anymore (he proposed in Archie 600) and instead, in issue 603 will propose to love-rival Betty (as seen in the cover, left)
This is clearly a reference to America's voting for Barack Obama, then turning against the very things he stood for, such as greater public healthcare coverage.
Of course, there are two more issues after this  in the Archie Wedding saga – maybe he'll get round to proposing to Jughead by then and challenging the Supreme Court to make their union binding or some such… and then have a gay union milkshake to celebrate.
I just don't get Archie, do I?
Enjoyed this article? Share it!